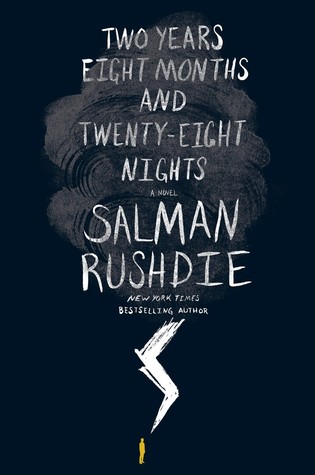 My Rating: 3/5 stars
Hardcover, 304 pages
Published 2015 by Random House
---
About this book:
Inspired by 2,000 years of storytelling yet rooted in the concerns of our present moment, this is a spectacular achievement–enchanting, both very funny and terrifying. It is narrated by our descendants 1000 years hence, looking back on "The War of the Worlds" that began with "the time of the strangenesses": a simple gardener begins to levitate; a baby is born with the unnerving ability to detect corruption in people; the ghosts of two long-dead philosophers begin arguing once more; and storms pummel New York so hard that a crack appears in the universe, letting in the destructive djinns of myth (as well as some graphic superheroes). Nothing less than the survival of our world is at stake. Only one, a djinn princess who centuries before had learned to love humankind, resolves to help us: in the face of dynastic intrigue, she raises an army composed of her semi-magical great-great–etc.–grandchildren–a motley crew of endearing characters who come together to save the world in a battle waged for 1,001 nights–or, to be precise, two years, eight months and twenty-eight nights
My Review:
My first Salman Rushdie book and I can't say I'm too impressed. it is written more like a recollection of events and less as a story retelling which it really is. That choice of writing style really made all the difference from making it an exciting piece of fiction to a boring piece of magical realism. Yes, the plot is strong and I liked the characters. From the beginning, the story captivates your attention but then the dull writing just made my attention waver.
I could sense the essence of storytelling which makes Rushdie so popular but I just believe I should have started with one of his popular books first. Moreover, choosing Rushdie right after a Murakami read-a-thon was a bad choice.
This book is wildly imaginative for sure blending the stories of one thousand and one nights, supernatural creatures like jinns and adding a philosophical touch to it. But the pacing is too slow and the action comes way too late. By then, my eyes were drooping from boredom but still, I was determined to find out the end.
The best part about the book has to be its start and the story of Dunia. Then her descendants the Duniazat just took too much time to make an impression on my mind so I didn't care about any of them.
One interesting thing about the book is that it is told in so many layers with the narration shifting from time to time. Yet, for some reason, it failed to become one of the memorable books for me. I am still willing to give Rushdie another chance but not anytime soon.
Join me on Twitter| Facebook | Pinterest| Goodreads| Tumblr| Instagram