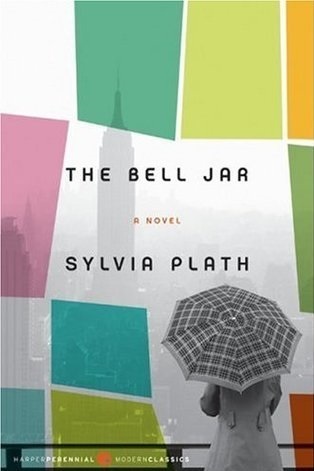 Genre: Classic, Fiction
My Ratings: 5/5 stars
244 pages
Published 2006 by Harper Perennial
---
About this book:
Sylvia Plath's shocking, realistic, and intensely emotional novel about a woman falling into the grip of insanity.
Esther Greenwood is brilliant, beautiful, enormously talented, and successful, but slowly going under—maybe for the last time. In her acclaimed and enduring masterwork, Sylvia Plath brilliantly draws the reader into Esther's breakdown with such intensity that her insanity becomes palpably real, even rational—as accessible an experience as going to the movies. A deep penetration into the darkest and most harrowing corners of the human psyche, The Bell Jar is an extraordinary accomplishment and a haunting American classic. 
My review:
This book has been on my TBR for a long while now. Actually, the fascination started after I read Belzhar (one of the most amazing magical realism contemporaries) and then after I read Ariel, it was decided for sure. I had to read this book.
To this date, I love Sylvia's poem Mad Girl's love song from when I read it ages ago. And time after time when I read her work or simply about her, there are parts that I find so similar to myself.
Is it just me or does everyone connect with Sylvia Plath on such deep level after reading this book?
From the vanities to indifference and that feeling of disconnect with the world as if you're in a bell jar.
The story begins with our protagonist (remember the name), a character based on Plath herself and her descent into insanity.
It started so frivolously like a chic lit. With a girl in London talking about writings, fashion, the vanities of girls around her, the descriptive habits of people she met and how her life was going on. For the most part, whenever she mentioned one of her ideologies in life like the marriage one, I could feel like she was voicing my thoughts. And then she breaks your heart without meaning to.
To think how people were treated for mental illnesses back then. Even today there is not enough awareness about it and a disease of the mind is treated as Taboo but back then. Ughhhh
It repulses me to the core to think about those shock treatments, being so clearly misunderstood. To want to get better but not knowing how and then letting the world commit their atrocities to you.
No wonder you killed yourself. I'm surprised you even lasted THAT long.
I am glad that I waited for the right time to read this book. I needed to be in the right frame of mind and have peace and quiet with no distractions. This book deserves undiverted attention and all the praise one could give it because it is so wonderfully raw and real.
Join me on Twitter| Facebook | Pinterest| Goodreads| Tumblr| Instagram