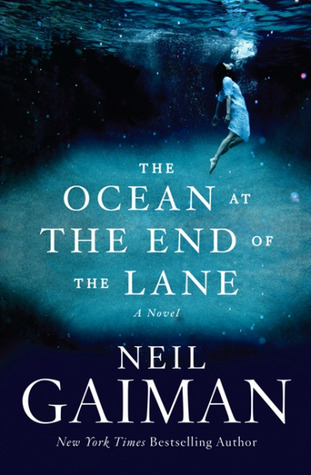 My Ratings: 4/5 stars
Genre: Magical Realism, Fiction, fantasy
181 pages
Published June 18th 2013 by William Morrow Books
---
About this Book:
Sussex, England. A middle-aged man returns to his childhood home to attend a funeral. Although the house he lived in is long gone, he is drawn to the farm at the end of the road, where, when he was seven, he encountered a most remarkable girl, Lettie Hempstock, and her mother and grandmother. He hasn't thought of Lettie in decades, and yet as he sits by the pond (a pond that she'd claimed was an ocean) behind the ramshackle old farmhouse, the unremembered past comes flooding back. And it is a past too strange, too frightening, too dangerous to have happened to anyone, let alone a small boy.
Forty years earlier, a man committed suicide in a stolen car at this farm at the end of the road. Like a fuse on a firework, his death lit a touchpaper and resonated in unimaginable ways. The darkness was unleashed, something scary and thoroughly incomprehensible to a little boy. And Lettie—magical, comforting, wise beyond her years—promised to protect him, no matter what.
My Review:
After Coraline, I couldn't think the author could top the level of creepiness and depth while creating a tale but he did it with this book.
Along with an intriguing story and normal fun characters, there is such depth to it if you think hard. The writing just builds this story up to an unbelievable level where it is part magical, part creepy and part philosophical. And the best part?
The narrative.
It made my entertainment level while reading this book to rise up ten times.
Each sentence so carefully constructed and HOW? How does the author come up with such intriguing premise and characters and stuff to write about?
He is a true story weaver.
With memorable characters such as Lettie Hemstock and her family, along with Ursula; dangerous instances that are much too extreme to have happened to a child, this book borders on magical realism. It is so frankly a piece of fiction but written in a realistic manner.
Also the name, the ocean at the end of the lane… The narrator involuntarily drives to his old house that has been demolished years ago and ends up near the pond which his childhood friend Lettie called an ocean. And from there begins a recollection of memories, one atop the other. Each more haunting than the last.
A wonderful book.
Join me on Twitter| Facebook | Pinterest| Goodreads| Tumblr| Instagram