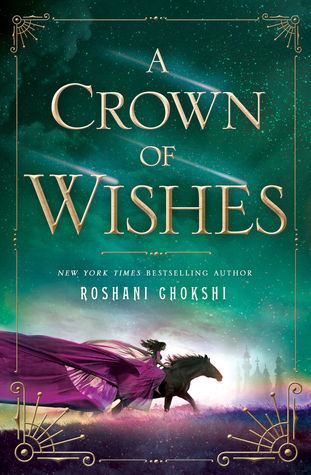 MY RATINGS: 4/5 stars
GENRE: Fantasy
 369 pages
Published March 28th 2017 by St. Martin's Griffin
---
ABOUT THIS BOOK:
n ancient mystery. An unlikely union. For one young princess in a state of peril, a dangerous wish could be the only answer…
She is the princess of Bharata—captured by her kingdom's enemies, a prisoner of war. Now that she faces a future of exile and scorn, Gauri has nothing left to lose. But should she trust Vikram, the notoriously cunning prince of a neighboring land? He promises her freedom in exchange for her battle prowess. Together they can team up and win the Tournament of Wishes, a competition held in a mythical city where the Lord of Wealth promises a wish to the victor. It seems like a foolproof plan—until Gauri and Vikram arrive at the tournament and find that danger takes on new shapes: poisonous courtesans, mischievous story birds, a feast of fears, and twisted fairy revels. New trials will test their devotion, strength, and wits. But what Gauri and Vikram will soon discover is that there's nothing more dangerous than what they most desire.

MY REVIEW: (Don't read if you haven't read Book 1)
"All war is philosophical. That's why we call it war. Strip it of its paint and it's nothing more than murder" 
I got my wish. I had been wanting to read more of Gauri's story. How she grew up and what struggles she faced and finally, the sequel is about her.
Well her and Vikram.
The fierce princess and the fox prince.
Gauri is badass. If I thought Maya was interesting, then her sister just topped her three times in badassery. She fights awesomely, she is brave, bold, ruthless but with a good heart. She is strong and cold too but that had to happen with such an asshole brother.
Then there is Vikram (if you read the first book, you would recognize him). Actually an orphan but raised by the king as his own son. He refuses to be a puppet of the King's court.
And Gauri, exiled by her kingdom, hated by the people, betrayed by her brother would do anything to save Bharata.
Their journey begins with a tournament – A game in which you win wishes. They travel to Alaka, face tests and meet other characters.
The author is marvelous with the way she constructs the plot. Just the right characters at right time and the words-Omfg the words. They were beautiful.
This book made me laugh, it had me hooked and most of all, it was full of action and DEPTH!
This fantasy series is becoming one of my favorites.
(P.S- Again I liked the blend of Hindu mythology with the story. Vikrama-Vetala, the Vishkanyas. Fun to read about)
Then there is the romance as there always is. But it didn't feel forced or imposed. It just kinda sneaked up on them and with their opposite personalities, it just made the book more amusing.
Join me on Twitter| Facebook | Pinterest| Goodreads| Tumblr| Instagram