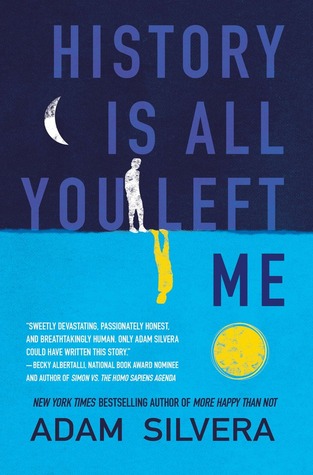 My Ratings: 2/5 stars
ebook, 320 pages
Published January 17th 2017 by Soho Teen
About this book:
When Griffin's first love and ex-boyfriend, Theo, dies in a drowning accident, his universe implodes. Even though Theo had moved to California for college and started seeing Jackson, Griffin never doubted Theo would come back to him when the time was right. But now, the future he's been imagining for himself has gone far off course.
To make things worse, the only person who truly understands his heartache is Jackson. But no matter how much they open up to each other, Griffin's downward spiral continues. He's losing himself in his obsessive compulsions and destructive choices, and the secrets he's been keeping are tearing him apart.
If Griffin is ever to rebuild his future, he must first confront his history, every last heartbreaking piece in the puzzle of his life.
My Review:
What is it with authors I like giving me books that are disappointing or dare I say boring? Or has my taste refined in these past few weeks that I can no longer enjoy these books.
After reading and loving More Happy than Not, I expected similar level of heart touching writing, marvellous characters and a great theme.
What I got was a sappy teen drama.
Theo has died and this whole novel revolves around Griffin reminiscing their old days as well as trying to get on with his life today.
I'm not saying that death and grief isn't a good theme. I just feel there was too much of Nerd fandom drama included with friend-love then love-love included for me to take it seriously.
The plot didn't really hook my attention but that is fine since it is a contemporary and focused more on the characters. But then I again, I didn't particularly like any character either. The writing just bored me and I finished the book hoping for something to change. It didn't.
Entering of Jackson into the scene did give me something to look forward to but even that wasn't enough. Yes, the story is real and it might even help some people who are going through something similar but I was totally indifferent to it and it was not entertaining enough or deep enough for me to enjoy it.
I didn't care for what happened to the characters, there was nothing memorable about the story or heart-touching about the writing.
This book failed me.
Join me on Twitter| Facebook | Pinterest| Goodreads| Tumblr| Instagram