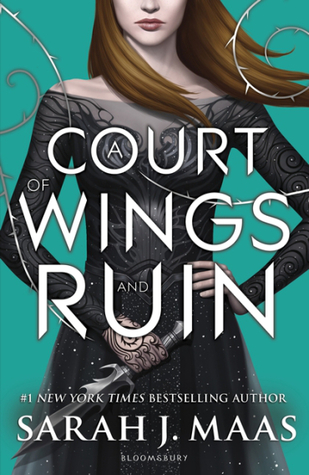 Ratings: 3/5 stars
Paperback, 699 pages
Published May 2nd 2017 by Bloomsbury Children Books
About this book:
A nightmare, I'd told Tamlin. I was the nightmare.
Feyre has returned to the Spring Court, determined to gather information on Tamlin's maneuverings and the invading king threatening to bring Prythian to its knees. But to do so she must play a deadly game of deceit—and one slip may spell doom not only for Feyre, but for her world as well. As war bears down upon them all, Feyre must decide who to trust amongst the dazzling and lethal High Lords—and hunt for allies in unexpected places.
My Review:
A court of Wings and ruin was NOT what I expected and this time, it isn't a good thing. After the way A court of Mist and fury ended with tons of badassery and a steal your heart kind cliffhanger, this book could have been epic.
Instead, it was worse than the first book. I am not talking about the characters because they are just as wonderful as they were before apart from the new additions being Nesta and Elaine.
It was interesting to have them in the book but they weren't worthy of attention according to me.
I saw no character development here. It was like the book was frozen. With so many things happening, there should've been changes in the character as well but they were mostly the same as before.
The story begins with Feyre back with Tamlin pretending to be happy in his court while her heart is back in the Night court with Rhysand.
Previously, I considered Feyre strong and brave but here, she just seemed cruel to me. Playing her petty games and messing with their minds.
Then there is the Rhys and Feyre romance which looked magical to me in ACOMAF but here, it failed to make the same impact on me.
Now for the story. Yes, S J Mass is a great world-builder and she excels at giving you an exciting plot that keeps you at the edge of your seat.
Still, I felt maybe it was the shortcoming of writing because even when there were great twists and turns in the story, I couldn't feel the awe or surprise.
You might think that may be because I couldn't connect to the story. Wrong.
I did connect to it, I felt for the characters. They are just too beloved for me to not care about them and I did feel emotional at times. But there was no 'Wow this blew my mind' moment in this book and the magic that the previous book had enchanted on me was faded as well. I will still be continuing with the series because I have high hopes for S J Mass but with this book ending on a sweet satisfying note, there's no curiosity or excitement for the sequel either.
Join me on Twitter| Facebook | Pinterest| Goodreads| Tumblr| Instagram