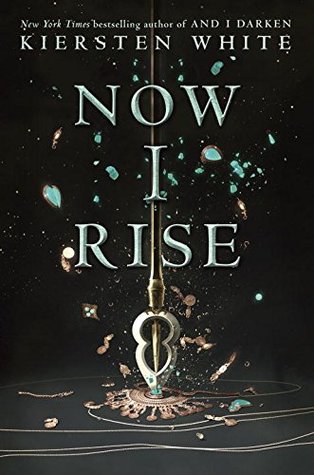 Rating: 5/5 stars
Genre: Historical Fiction, retelling
496 pages
Expected publication: June 27th 2017 by Delacorte Press
I received an ARC from Netgalley in exchange for an honest review. The quotes I have used may be edited in the final published version. 
DON'T READ THIS REVIEW IF YOU HAVEN'T READ THE FIRST BOOK. SPOILER! (A review link for the first book is added below. check that out instead)
---
About this Book:
Lada Dracul has no allies. No throne. All she has is what she's always had: herself. After failing to secure the Wallachian throne, Lada is out to punish anyone who dares to cross her blood-strewn path. Filled with a white-hot rage, she storms the countryside with her men, accompanied by her childhood friend Bogdan, terrorizing the land. But brute force isn't getting Lada what she wants. And thinking of Mehmed brings little comfort to her thorny heart. There's no time to wonder whether he still thinks about her, even loves her. She left him before he could leave her.
What Lada needs is her younger brother Radu's subtlety and skill. But Mehmed has sent him to Constantinople—and it's no diplomatic mission. Mehmed wants control of the city, and Radu has earned an unwanted place as a double-crossing spy behind enemy lines. Radu longs for his sister's fierce confidence—but for the first time in his life, he rejects her unexpected plea for help. Torn between loyalties to faith, to the Ottomans, and to Mehmed, he knows he owes Lada nothing. If she dies, he could never forgive himself—but if he fails in Constantinople, will Mehmed ever forgive him?
As nations fall around them, the Dracul siblings must decide: what will they sacrifice to fulfill their destinies? Empires will topple, thrones will be won . . . and souls will be lost.
My Review:
The much-awaited sequel of 'And I darken' (Review). I was so excited when I got approved for this because I had already waited so long for this. I loved the characters in book one. our strong Lada, my beautiful Radu, complicated Mehmed and to say that there is such a huge character-development in this book would be an understatement. I loved Book 1 but this sequel takes the story to another level. Everything is better. The story is more intense and complicated which I enjoy because the only complaint I had with the previous book is that I found the plot to be a little weak. Well this book amazed me.
This was literally me during the book. *screams of frustration *punching pillows *repeating character name again and again *yelling at my phone (since ebook) *closing my eyes and just letting myself feel the agony
It was so beautiful though. I love when I fully immerse in a book so much that every little thing affects me. This book started right where the first book ended. Lada has left Mehmed and Radu behind to claim her throne. Radu is still in love with Mehmed. Mehmed is still in love with Lada. The war on empire of Constantinople is still in progress.
I have to say I loved Radu more than ever in this book. For me, he is the highlight of this series. yes, he may be naive when it comes to some situations. He also makes despicable choices and yet my heart bleeds for him.
But the promise of the guilt he would carry if she died without his help clung to his skin like a shadow.
And Lada, she is strong, fearless, ruthless and brutal as always. Any sane person would like her fierceness but despise her actions but I never claimed to be sane. She does what she does for her dream of Wallachia. She will do anything to prove her worth.
Push out so no one can push in. A dealer of Death. that was what Tohin had said one must become. Deal enough death elsewhere to keep it away from your own home.
Where Lada was bringing me hope during this book, Radu was breaking my heart. And Mehmed. From the beginning of this book, I sensed something wrong with him and that hunch turned out to be right. How much he has changed! like I said, HUGE character-development. But one thing remained the same.
I thought they would kill you and break Radu's heart.
Because in the end, this sentence is what defines these two characters. Because Lada has a warrior's soul. She is always putting herself in danger. And My beautiful Radu has a golden heart and he always gets hurt.
Apart from the characters ( though they are the main highlight of this book), the plot is gripping. I finished it in one sitting because I was hooked. One hand there is lada, dealing with fights, politics, trying to win her throne. And on the other hand, Radu and Mehmed are planning to take over Constantinople. The intenseness and intricacies of war and politics make this an entertaining read but what I also can't help myself from mentioning is the writing.
It just flows in a way that it is both strong yet lyrical. The dialogues, the descriptions, the emotions, nothing would've reached me if the writing hadn't been this good. this has to be my best read of 2017 so far and trust me, I have read some pretty amazing books this year.
Now all that is left is waiting for the sequel. My heart sinks at the thought. I am very impatient.
Join me on Twitter| Facebook | Pinterest| Goodreads| Tumblr| Instagram