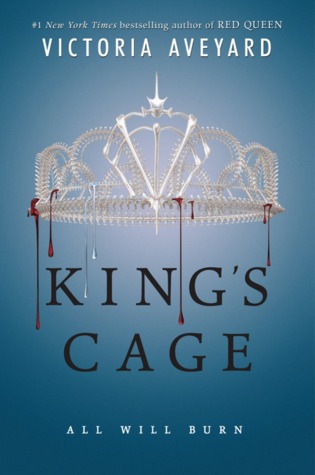 Rating: 3/5 stars
Genre: YA, Fantasy
528 pages
Published February 7th 2017 by HarperTeen
---
ABOUT THIS BOOK:
In this breathless third installment to Victoria Aveyard's bestselling Red Queen series, allegiances are tested on every side. And when the Lightning Girl's spark is gone, who will light the way for the rebellion?
Mare Barrow is a prisoner, powerless without her lightning, tormented by her lethal mistakes. She lives at the mercy of a boy she once loved, a boy made of lies and betrayal. Now a king, Maven Calore continues weaving his dead mother's web in an attempt to maintain control over his country—and his prisoner.
As Mare bears the weight of Silent Stone in the palace, her once-ragtag band of newbloods and Reds continue organizing, training, and expanding. They prepare for war, no longer able to linger in the shadows. And Cal, the exiled prince with his own claim on Mare's heart, will stop at nothing to bring her back.
When blood turns on blood, and ability on ability, there may be no one left to put out the fire—leaving Norta as Mare knows it to burn all the way down.
REVIEW:
After such a massive cliffhanger of Glass Sword, a book that equally excited me and ruined me, I was ready for this book. More Maven and Mare!
What happened was what I expected. Those incredible Maven and Mare scenes. Seeing maven at his most real point, all raw and broken. His love for Mare, which seemed more like an obsession but maybe it was a result of her mother's messing around in his head. I saw a scared boy, with poisonous relations who burned everything he dared to touch.

He's terrified. For a second it makes me happy. Then i remember- monsters are most dangerous when they're afraid.

You see I liked this book for other reasons too.
Mare's struggle in captivation and how it broke her but she still saved her fire. Her complicated relation with Maven and from what I see, I don't see that ship sailing. Then there is the real plot, the war, the scarlet guard, fights for the crown, the power struggle between Reds and Silver as a result of the discovery of New bloods and there were some astonishing twists.
But the main highlight for me still remained Maven. I just never liked Cal at all and seeing his powers and him with Maven, it lacked that spark that Maven brings.
I do like this world that Victoria Aveyard has brought to life and her writing is wonderful.

He caught me back then, ensnaring me in a Prince's Trap. Now I'm in a King's Cage. But so is he. My chains are Silent Stone. His is the crown.

But the reason this is a 3 star read for me is that the social setting and political take overs, the wars and the fights just didn't capture my interest that much. Then I finished this book and figured there will be a sequel and with a good series, that should be exciting news. With the way this book ended, I should be thrilled for the sequel, instead I feel nothing. I feel as if the story got dragged and will continue to drag into more elaborate wars. The only reason i am going to stay loyal to this series is because Maven.
Why do I always fall for the unlikeable one? I know there is no hope for Maven but I still like him so much.
Join me on Twitter| Facebook | Pinterest| Goodreads| Tumblr| Instagram