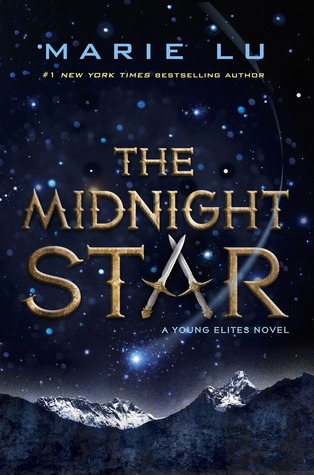 Ratings: 3.5 stars
Genre: YA Fantasy
3rd book of the Young Elites trilogy
316 pages
Published October 11th 2016 by G.P. Putnam's Sons Books for Young Readers
---
About this Book:
There was once a time when darkness shrouded the world, and the darkness had a queen.
Adelina Amouteru is done suffering. She's turned her back on those who have betrayed her and achieved the ultimate revenge: victory. Her reign as the White Wolf has been a triumphant one, but with each conquest her cruelty only grows. The darkness within her has begun to spiral out of control, threatening to destroy all she's gained.
When a new danger appears, Adelina's forced to revisit old wounds, putting not only herself at risk, but every Elite. In order to preserve her empire, Adelina and her Roses must join the Daggers on a perilous quest—though this uneasy alliance may prove to be the real danger
"Fear works best with some love," Magiano says. "Show them that you can be terrifying, yet generous."
I love Adelina's character. She is the perfect anti-hero, the darkness in her, that's the stuff nightmares are made of. She remained the best part of this book. Her nightmares/illusions/hallucinations, her cruelty, ruthlessness, her wish for redemption, it made the book as good as it is. Because this book DOES NOT explore the other characters as much. I wanted more of Magiano's story and Violetta and Sergio's relationship. You can't just throw in one scene and expect us to be okay with not knowing more.
I enjoyed reading about Magiano and Adelina. Even Teren, the character I should hate (but always kind of liked), I felt there was too little of him in the book. This book was just too short for a conclusion.
So I'm here reading and the book is almost over, and they are still on their journey to save the world and I think "There's no way Marie Lu can wrap this up in just these few pages." But she did. And it left me feeling too underwhelmed.
I have mixed feelings. I love this series. Such a twisted, dark, bitter, diverse characters. An awesome premise, powers and theme. Yet this book didn't impact me as much as it should have. The ending of The Rose society had paved the way for a mind-blowing sequel but what I got was another Mehh-it-was-fine YA novel that I'll forget about in a few days.
I did like the mythical story/Adelina's legend in the end. The cruel queen, the brave hero who loved her sister. Depends on what you choose to believe.