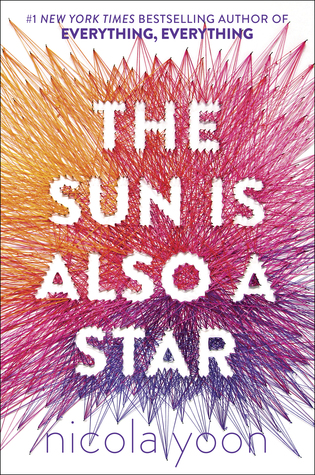 My rating : 3 out of 5 stars
Expected publication: November 1st 2016 by Delacorte Press
Genre:YA contemporary, Romace
I received a free ARC from Netgalley in exchange for an honest review.
---
About this book:
Natasha: I'm a girl who believes in science and facts. Not fate. Not destiny. Or dreams that will never come true. I'm definitely not the kind of girl who meets a cute boy on a crowded New York City street and falls in love with him. Not when my family is twelve hours away from being deported to Jamaica. Falling in love with him won't be my story.
Daniel: I've always been the good son, the good student, living up to my parents' high expectations. Never the poet. Or the dreamer. But when I see her, I forget about all that. Something about Natasha makes me think that fate has something much more extraordinary in store—for both of us.
The Universe: Every moment in our lives has brought us to this single moment. A million futures lie before us. Which one will come true?
My Review:
The book starts off real good and I thought I will love it. Natasha's Immigration troubles, Daniel's family problems (career confusion) were all too familiar. And of course I had faith in Nicola Yoon since I loved Everything Everything. And till about 55% of the book, it was going real well, I was enjoying it. But insta-love and that Jerk Fitzgerald ruined it for me. Though it was nice how every character's POV and story was told. Even the ones you'd have dismissed as unimportant otherwise.
Some parts I really liked. Like I could totally relate with Natasha's character. I don't believe in love either but I do in science. And when they talked about the grandfather effect and time – travel, I just couldn't stop smiling. Some scenes were just too cute, and others well I found them too over the top. Like the way Daniel described Natasha, the sunlight was forming a halo through her hair or something. *eyeroll. So I have mixed feeling about this one. And then the epilogue just sent me over the edge yearning for just another line.