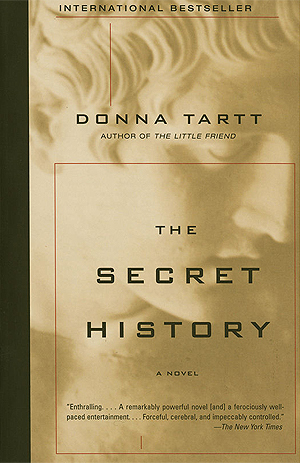 Buy this Book: Amazon.in, Amazon.com
My Rating : 2 out of 5 stars
Paperback, First Vintage Contemporary Edition – Hard Paperback, 559 pages
Published April 13th 2004 by Vintage
Genre: Fiction, Mystery
---
About this book:
Under the influence of their charismatic classics professor, a group of clever, eccentric misfits at an elite New England college discover a way of thinking and living that is a world away from the humdrum existence of their contemporaries. But when they go beyond the boundaries of normal morality they slip gradually from obsession to corruption and betrayal, and at last – inexorably – into evil.
My Review  :
Too long and dragged out, slow pace. Inessential elements. Unbelievable characters that I mostly disliked. Some parts were predictable. And the writing intrigued me sometimes but other times I almost got bored to death. And I just do not understand the main protagonist and his reasons for doing whatever he does at all. And as to the whole cult stuff, these people were drunk and taking pills like normal people eat food and drink water. Who can believe a word they say or think? And Julian – I have no words for him. To say he infuriates me would be an overstatement because I didn't even want to think about him. He's that unimportant in the story. He is. And Bunny is a real piece of shit but among all the other characters, he is the most interesting one. And what started as a very literary and deep storyline, turned dark real soon (but I felt so disconnected because of how emotionless and detached the characters were to the circumstances). It's just hard to explain and then there was a revelation about the whole group's feelings for each other and that was the last straw for me. I majorly dislike this book. Sorry friend (who recommended it to me and loves it), but I wish I had never read it.
P.S – Here's a weird thought, I had a feeling of De ja vu while reading the last chapter and Epilogue. Don't know why. It's all very confusing to comprehend. And while I was looking forward to reading The Goldfinch by Donna Tartt, I think I'll be pushing it down on my TBR now.
I did like a few quotes from the book though, if that counts for something.
"Beauty is terror. Whatever we call beautiful, we quiver before it."
Join me on Twitter| Facebook | Pinterest| Goodreads| Tumblr