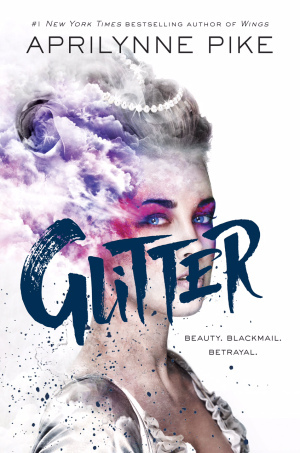 Genre: YA, Fantasy, Historical Fiction, Sci-fi (Kinda)
Expected publication: October 25th 2016 by Random House Books for Young Readers
My Ratings : 2 out of 5 stars 
 (I got a free ARC from Netgalley in exchange for an honest and unbiased review)
---
About this book:
Outside the palace of Versailles, it's modern day. Inside, the people dress, eat, and act like it's the eighteenth century—with the added bonus of technology to make court life lavish, privileged, and frivolous. The palace has every indulgence, but for one pretty young thing, it's about to become a very beautiful prison.
When Danica witnesses an act of murder by the young king, her mother makes a cruel power play . . . blackmailing the king into making Dani his queen. When she turns eighteen, Dani will marry the most ruthless and dangerous man of the court. She has six months to escape her terrifying destiny. Six months to raise enough money to disappear into the real world beyond the palace gates.
Her ticket out? Glitter. A drug so powerful that a tiny pinch mixed into a pot of rouge or lip gloss can make the wearer hopelessly addicted. Addicted to a drug Dani can sell for more money than she ever dreamed.
But in Versailles, secrets are impossible to keep. And the most dangerous secret—falling for a drug dealer outside the palace walls—is one risk she has to take.
My Review:
This isn't what I expected. But then again, I always fall for the beautiful covers. The result is almost always the same. A book with little depth and weak plot. 80's world with robots and a hint of breaking bad. I really though it'd be good. But reading this I have figured out a few things : (a) I do not like Dani much. No, just no. She's selfish and doesn't see that she is ruining lives.
(b) There was no need for the romance part. The story could've easily been shifted in another direction. And I totally predicted that it would happen.
(c) We hear about glitter. If the actual experience of using glitter had been described, maybe I'd care more about its effects.
There was just potential for it to be a good story but till about 80% of this book, we have no huge surprises, it's all pretty normal and kinda boring. The author tried to make it interesting towards the end and when she finally started to succeed, BAM THE END.
Does it look like I'd want to pick up the next book in the series? HELL NO.
And the King is made out to be all evil and dark.. Well yeah you told me so I believe it. But you didn't show me much. And good writing is showing not telling. I just found him to be a normal person who made some bad choices and then had to live with them. And if you try to fit someone into a persona and literally tell them and show them how much you HATE them, of course they'll be terrible to you. What do you expect?
So Dani doesn't like or trusts the king but she's gonna trust a random shady guy's word. This girl is stupid af. I am not sure why i even stuck around and finished this book. Oh I know, because I requested it and had a duty to finish it.
Doesn't mean I have to like it though. Because I don't. And if you are wondering why two stars and not 1, 1 star for the cover (Because I do actually like it) and 1 star for coming up with the glitter idea (that Dani comes up with). Yeah, it's cruel but clever too.