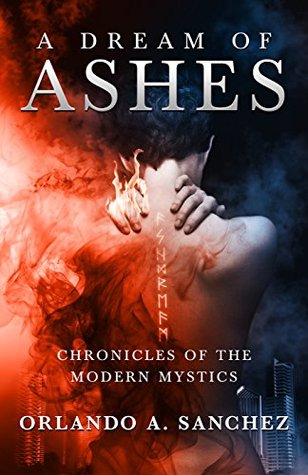 Goodreads : Link
Buy the Book : Amazon.com, Amazon.in
My Ratings : 4 stars
Genre : Urban Fantasy
Published April 27th 2016 by OM Publishing
---
About this Book :
Mystics.Magic.Murder.
A Fire Mystic.A Ruthless Killer. A Dark Secret.
Ava James is a fire mystic with the Mystic Investigative Division. As a branch of the Enclave, a worldwide mystic organization, the MID is feared, respected and reviled.
When the half-charred body of a Mystic is found, the Enclave sends her to investigate the strange death. Ava finds that all the clues point to the killer being a fire mystic, one of her own. Accused by the Enclave of working with the killer she must solve the case before a secret buried in her past is revealed and destroys her world.
Can she save herself? Will she find the murderer?
If you like hardcore, fast-moving action, complex mystical powers and an unstoppable heroine, then you'll love Orlando A. Sanchez' thrilling new series: Chronicles of the Modern Mystics
My Review:
An action-packed, fast paced novel with mystical elements that feels like watching a Jason Bourne movie, at first and then turns into a battle manga. Secrets are revealed, Ava is framed for murders she didn't commit and no one can be trusted. I loved the fight-scenes and there were so many. This new Mystic world is intriguing as well, I just wish it was better explained. Our main protagonist Ava is a badass fire Mystic who works for the MID, so when mytics start getting killed, she is sent to investigate but since she is the only fire mystic in town, all blame shifts on her. So now she's running from MID,fighting enforcers and figuring out who framed her all at once. Even with so much happening all at once, I never once felt that the writing was rushed, in fact, it was a pretty well-written book.
Despite it's darkness, I loved my city, but on days like this she was a cheap whore. A facade of beauty stripped away by the bright light of death, revealing the ugly truth to those brave or stupid enough to look closer.
When I saw the book, I was bewitched by the beautiful cover and when I started reading it, it barely took me 2 hours to finish it. I was turning pages as if my life depended on it. And where the story started as a modern detective novel (with Mystics), it turned into a Japanese action movie and I enjoyed every minute of it. I just wish to get my hands on the sequel as soon as I can.
(I received a free copy of this book from the author in exchange for my honest opinion.)