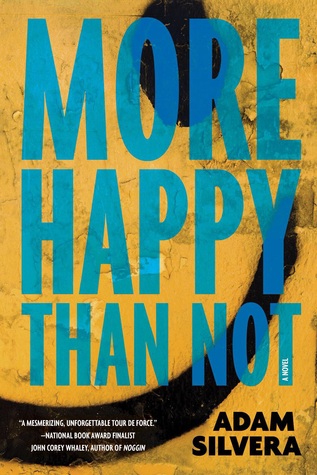 Goodreads : Link
Buy the Book : Amazon.com, Amazon.in
My Ratings : 4 stars
Pg count:  293 pages
Published June 2nd 2015 by Soho Teen
Genre :  YA Contemporary, LGBT, Fiction
---
About this Book :
In the months after his father's suicide, it's been tough for 16-year-old Aaron Soto to find happiness again–but he's still gunning for it. With the support of his girlfriend Genevieve and his overworked mom, he's slowly remembering what that might feel like. But grief and the smile-shaped scar on his wrist prevent him from forgetting completely.
When Genevieve leaves for a couple of weeks, Aaron spends all his time hanging out with this new guy, Thomas. Aaron's crew notices, and they're not exactly thrilled. But Aaron can't deny the happiness Thomas brings or how Thomas makes him feel safe from himself, despite the tensions their friendship is stirring with his girlfriend and friends. Since Aaron can't stay away from Thomas or turn off his newfound feelings for him, he considers turning to the Leteo Institute's revolutionary memory-alteration procedure to straighten himself out, even if it means forgetting who he truly is.
Why does happiness have to be so hard?
My Review:
I am More Happy than not right now. Because I finally picked up this book and it was incredible. Yes, it was heart-wrenching and totally messed with my emotions and made me really sad and choked up but that's how I know how amazing this book was.
"I realize I'm crying a little, too. I remember. Sometimes pain is so unmanageable that the idea of spending another day with it seems impossible. Other times pain acts as a compass to help you through the messier tunnels of growing up. But pain can only help you find happiness if you remember it."
When this book came out, I saw it all around the blogsphere, there were More happy than not Tags made, everyone was raving about it. I avoided reading the reviews because I didn't wan to spoil myself. The only thing I did know was that this was a book about a gay character. That's it. I really really thought from the book cover and the name that this would be a happy book and since I'm  a little ill right now, I picked this up finally hoping to find a book that would make me feel good. And boy, was I wrong.
Meet Aaron, the boy with a smile shaped scar on his wrist, he tried to kill himself, but he would never try that again. He has a wonderful girlfriend Genevieve and they are happy together, with their coupley games and quirks. Aaron's father committed suicide and hard as it may be, life goes on. He has friends and a great mother,  a brother. He's a normal teenager who like comics, curses a lot, plays games with his friends, masturbates and asks his friends ( and brother) for sex advice. Do you see how perfect this life is? Not too perfect but not too bad either, right?
Wrong , so so wrong. Here comes Thomas, the quitter, the rooftop guy, the amazing wonderful friend that even Aaron's girlfriend is jealous of. This is when everything changes.
I don't know how to write this review without spoiling everything but the lengths that Aaron would go to deny his sexuality, because of a homophobic society, his struggle with pain and how he tries to be more happy than not, no matter what he loses in the path is what devastated me so much. You can blame Genevieve for sticking around but she LOVES Aaron as much as Aaron loves Thomas and when all everything starts spiraling out of control, they are the only people who keep him going. I just felt like screaming while reading this out of frustration, pain, I don't know. I just wanted this to end on a happy note with everything that happened, I couldn't have survived if it ended on a bad note. But cheers to Mr. Silvera, he gave me a perfect ending. I won't call it happy but it wasn't sad either. It was more happy than not though.
By now you have noticed how I gave this 4 stars and not 5 even though I loved this book. Well, that one is for the writing. Where on one hand, I connected with the characters, I didn't love them. This book really shook me up when I finished it last night but it's not the kind of book I kept thinking about. It's forgettable. You read it, you love it with all you have but the next day, you barely even think about it. That's why it isn't perfect 5 stars for me. But it is a book I recommend to everyone.