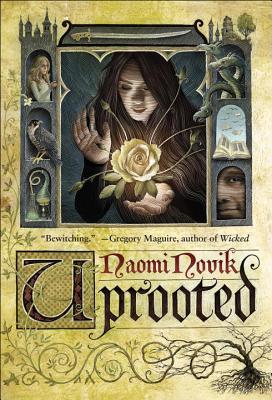 Goodreads : Link
Buy the Book : Amazon.com, Amazon.in
My Ratings : 3 stars
Genre: Fantasy, Adult Fiction, Magic, Paranormal
Pg Count: 438 pages
Published May 19th 2015 by Del Rey
---
About this Book :
 "Our Dragon doesn't eat the girls he takes, no matter what stories they tell outside our valley. We hear them sometimes, from travelers passing through. They talk as though we were doing human sacrifice, and he were a real dragon. Of course that's not true: he may be a wizard and immortal, but he's still a man, and our fathers would band together and kill him if he wanted to eat one of us every ten years. He protects us against the Wood, and we're grateful, but not that grateful."
Agnieszka loves her valley home, her quiet village, the forests and the bright shining river. But the corrupted Wood stands on the border, full of malevolent power, and its shadow lies over her life.
Her people rely on the cold, driven wizard known only as the Dragon to keep its powers at bay. But he demands a terrible price for his help: one young woman handed over to serve him for ten years, a fate almost as terrible as falling to the Wood.
The next choosing is fast approaching, and Agnieszka is afraid. She knows—everyone knows—that the Dragon will take Kasia: beautiful, graceful, brave Kasia, all the things Agnieszka isn't, and her dearest friend in the world. And there is no way to save her.
But Agnieszka fears the wrong things. For when the Dragon comes, it is not Kasia he will choose.
My review:
This is a bit weird because everyone loves this book. The bloggers I follow, my goodreads friends, they all think Uprooted is the best book ever. I didn't get that feeling.
The book started off really intriguing. A man named Dragon who took girls from the village, he didn't hurt them or touch them but when they came back, they were all changed. They didn't want to live their old lives and get married anymore. And when our protagonist Agnieszka gets taken, instead of her sister, I was excited to read what really happens there. The dragon was bit of a jerk and Agnieszka , a clumsy girl…… Never a good match. But as the story progressed, I found myself more and more interested in the magic. The action scenes were good, the evil woods captured my attention. So far, I've mentioned everything I've enjoyed. Now for what I didn't enjoy, as soon as the queen entered the equation, it all fell apart for me. I couldn't connect to the characters anymore, I didn't care if they died. Things were all happening and  I got confused what to think about. I wasn't surprised by anything in the story, I didn't care about the new characters that were introduced or the woods anymore. So it all just went downhill from there and by the end I was relieved that the book is over. I don't know man, it's a classic case of It's-me-not-you! Most of the people love this book, though I don't understand why. I was thinking of rereading this at a later time but NO. Too many books, too little time and I would rather pick up another interesting book than revisit this one.
Join me on Twitter, Facebook, Pinterest, Goodreads, Tumblr