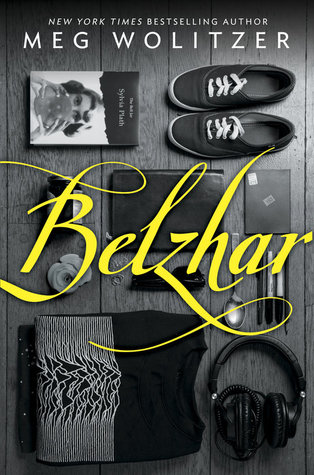 Goodreads : Link
Buy this book : Amazon.in, Amazon.com
Published September 30th 2014 by Dutton Books for Young Readers
My Ratings : 4 out of 5 stars
Page count :264 pages
Genre :YA, Fiction, Contemporary, Magical Realism
Book Blurb :
If life were fair, Jam Gallahue would still be  at home in New Jersey with her sweet British  boyfriend, Reeve Maxfield. She'd be watching  old comedy sketches with him. She'd be kissing  him in the library stacks.
She certainly wouldn't be at The Wooden Barn, a therapeutic boarding school in rural Vermont, living with a weird roommate, and signed up for an exclusive, mysterious class called Special Topics in English.
But life isn't fair, and Reeve Maxfield is dead. 
Until a journal-writing assignment leads Jam to Belzhar, where the untainted past is restored, and Jam can feel Reeve's arms around her once again. But there are hidden truths on Jam's path to reclaim her loss.
From New York Times bestselling author Meg Wolitzer comes a breathtaking and surprising story about first love, deep sorrow, and the power of acceptance.
My Review :
My new found motivation to read The Bell Jar by Sylvia Plath, all thanks to this book and a Goodreads review I read.
I started reading this hoping it to be a nice contemporary book, about dealing with loss and you see the book blurb.
Girl gets into Special Topics of English class, journal writing, dealing with a dead boyfriend. Typical contemporary story right? I wasn't expecting to like it so much.
But this book was not what I expected. It was so much better.
There's kind of a magical element, different characters, all with a story of their own and a memory that they can't let go of. Problems, choices. And the writing is just so good.
The scenes make your heart melt sometimes and other times, make you cry.
And with all the Sylvia Plath quotes and poems, it was just the kind of book I wanted.
Our main protagonist, Jam's boyfriend died. And she's inconsolable. Her parents don't know what to do so they enroll her in The Woodenbarn, a boarding school for the emotionally fragile. Here she finds a group of friends, all of whom are suffering with their own problems. She wasn't expecting a bunch of odd people :Griffin with his hostile attitude, Sierra who's nice but in pain, Marc an A grade student and Casey, the girl with the wheelchair to become so important to her.
I especially loved the plot twist towards the end. And I also liked that the Journals weren't explained. This is the first and only time I like not knowing "How and why?"
So there's that! Also, Sylvia Plath quotes and poems are used so wisely in here. Just go and read this book.
P.S – This is the first book I've read by this author but I want to read more, if anyone has any recommendations, just comment below.
Join me on Twitter, Facebook, Pinterest, Goodreads