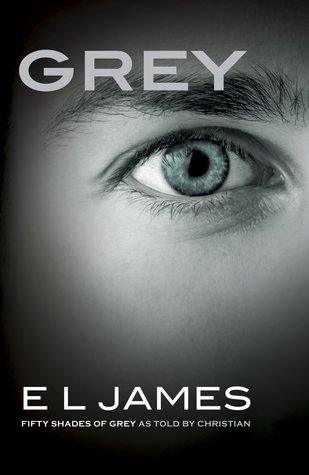 Goodreads: Link
Publishing company : Vintage 
Publishing date : 18 june,  2015
My rating: 2 stars

My review:
Grey is the fourth book in Fifty Shades of Grey series. (Can't call it a trilogy now) I'll just tell you the obvious. It's Fifty Shades Of Grey from Christian's POV. Anybody remember Stephenie Meyer's Midnight sun that never came out?
Yeah well E L James isn't that cruel. The fans asked and here it is *drumroll please*……… Another  novel.
Let me be clear. I liked Fifty Shades Of Grey. I don't care what that says about me or what people think about that book. In my opinion I liked it. And I liked Twilight too. (I had to mention this since FSOG of course started off as Twilight fanfic)
You can glimpse shades of Twilight in this book. And it's more clear from Christian's POV. But After reading the trilogy, I had it bad for Christian. So I read lots of Fifty shades fanfic. Most were from Christian's POV. That's why when I read this book, it was like re reading the fanfic. It was so similar, I felt like the fanfic author knew Christian so well, maybe even better than E L James.
But I also didn't love this book as much as the others. Let's just say Christian's mind isn't as interesting as I thought. The parts from his past are intriguing but the time he spends with Ana, there's no romance I see there. Nope not at all, but then again, he said that he wasn't a romantic.
I would've liked to read Fifty Shades DARKER from Christian's POV. Since that's my favorite book from the trilogy. That book is intense. This one, not so much.
So here's Christian's mind (I'll not be subtle)
Fuck,  I want her, I want to hurt her, Nightmares, I'm a monster, But I still want to fuck her, Damn, Damn, I'm turned on, Fuck! My cock, I want Ana, Stalking, Business, Sex, Don't touch me, Everyone is irritating.
Yeah so that's the whole book in short for you. I'm really disappointed. 😐
And when you get to know what's going on in Christian's mind, you no longer feel the same about him.
I mean, That guy.. He is the guy who has DJ's, his Dom Jeans. Yeah the one he is always wearing in the playroom. And he is totally blind to Mrs. Robinson even though she ruined him. When Ana puts up such good argument about it,  he just gets angry and doesn't even want to listen.
For a self-made businessman,  he can be really stupid sometimes.
That's it. I still think the people who are completely smitten with Christian  will find this book amazing but not me.
Signing off
Alex_The_shadow_girl