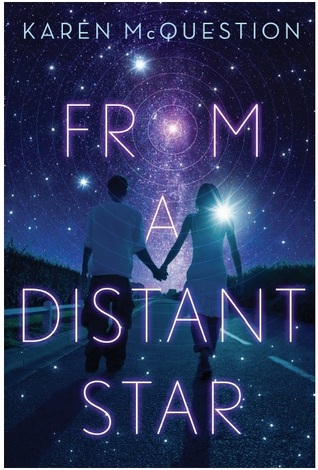 Goodreads: Link 
Publishing company : Skyscape
Publishing date: May 19, 2015
My ratings : 4 stars. 

Summary
Seventeen-year-old Emma was the only one who hadn't given up on her boyfriend, Lucas. Everyone else—his family, his friends, his doctors—believed that any moment could be his last. So when Lucas miraculously returns from the brink of death, Emma thinks her prayers have been answered.
As the surprised town rejoices, Emma begins to question whether Lucas is the same boy she's always known. When she finds an unidentifiable object on his family's farm—and government agents come to claim it—she begins to suspect that nothing is what it seems. Emma's out-of-this-world discovery may be the key to setting things right, but only if she and Lucas can evade the agents who are after what they have. With all her hopes and dreams on the line, Emma sets out to save the boy she loves. And with a little help from a distant star, she might just have a chance at making those dreams come true.
My review:
From a Distant star is a beautiful sci-fi novel. Lucas is dying. He has cancer and no hopes of getting better but Emma isn't one to give up on her love. So when Lucas starts getting better, things are just not the same. He acts different, speaks different.
It was so much fun reading this. Scout in the body of Lucas. He acted so innocent and it was cute. When he didn't know what he was saying, didn't seem to understand things, he seemed like a little baby. And his interactions with Emma were hilarious. This book made me smile a lot.
The storyline was good, the characters were adorable and the writing, beautiful. It's not an alien- human love story. There is a bit romance but not with the alien. You see, Emma is in love with Lucas. And Scout isn't Lucas. So the relationship between Emma and Scout is more of a frienship. But it was really cute. 🙂
Signing off
Alex_The_shadow_girl