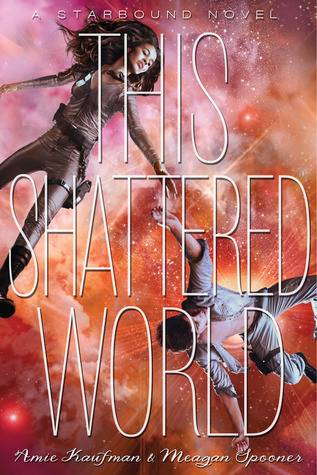 Goodreads : Link
Publishing company: Disneyg hyperion
Publishing date: 23rd December, 2014
My rating : 4 stars
This is the second book in the Starbound trilogy. Review for first book here.
This Shattered world is so much better than These Broken Stars.
It feels like the author read all those reviews about what's wrong with the book and actually decided to act on it. Now I'm going to stop comparing these books and actually talk about this one.
Jubilee is the type of character I'm truly fond of. She's strong and independent. She level-headed but doesn't lack bravery.
Throughout the book we get glimpses of her past, her dreams and nightmares.
This book shifts between Jubilee's POV and Flynn's POV.
Now something about Flynn. He shouldn't fell ignored you see. He is really sweet and charming, in the start. And towards the end I felt like, he's brave and strong too. Also righteous and honorable. Take all the good qualities required in a good human and he's got it.
I quite enjoyed the spark between these two characters. Especially those comebacks.
Now about the story.
Jubilee is a soldier. The girl of steel who has no soul. Flynn is a rebel. They are on the opposite sides of what is about to become war. But there are things even they don't know about. Avon the swamp planet, promised a betger future by LaRoux industries but still in the worst of shapes. There is some secret they are hiding, some reason why everything is going ballistic but what happens when people start wondering and asking questions.
The plot was creative and this new place in space was intriguing even with the bad shape it was in. I liked this book mainly because it had romance in it but the story wasn't all based on that romance. It had many other factors. The characters from the previous book also appear in it.
In the end, I'll just say I liked it betbetter than the first book and I'm waiting for the third book in this trilogy.
Signing off
Alex_The_shadow_girl