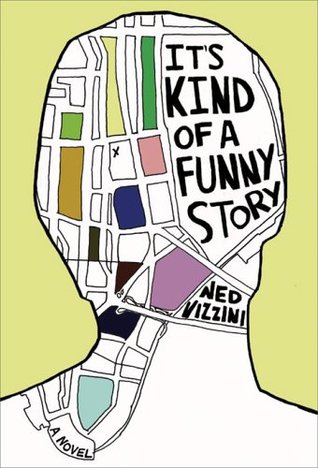 Title: It's kind of a funny story 
Author: Ned Vizzini 
Goodreads: Link 
Publishing company: Disney-hyperion
Publishing date: May 1st 2007
It's kind of a funny story. Well it's kind of a good book. Not mind-blowingly awesome but not weirdly bad too. It was pretty nicely written. Craig goes through life finding out answers and figuring out stuff. It was fascinating being in his head. I thought what he thought, I felt what he felt. It was so interesting.
Craig has a pretty good life so far. His parents are loving, he got into a good High school. He has a few friends too.
But, wait for it……. He is suffering from clinical depression. So he is admitted into the psych ward.
That's where the interesting part starts. There are people with all sorts of problems there. Some are just hilarious, some really weird.
Well Humble in my opinion counts as a funny one, so does Muqtada (occasionally). And then there were the other characters, fascinating.
This is Craig's journey of finding an anchor and struggling to live his life since you know, he wants to die. He worries (like most of the people) that he's not enough. There are people better than him and he'll not be able to make it in the outside world, won't get a job, will become a failure. Well those are thoughts we all go through.
I liked the characters even though they could be really a pain sometimes. And the storyline was kinda okay. What I really like though was the questions it left in my mind. It takes the problems we have all suffered from and makes it into a story. We see ourselves reflected in those characters or atleast I did.
All in all, it was a good book.
P.S- Did you know that the author wrote this book after being in a psych ward himself?
This book has been made into a movie which I'll be watching soon.
4 stars.****
Signing off
Alex_The_shadow_girl